The GT gravity technology was designed by award winning engineers in Moscow in partnership with CMG. The GT-2A is based on 7 years of operational experience with the GT-1A which brings proven design and fully automatic operation to mobile scalar gravity measurement.
The very large dynamic range provides high precision data even in turbulent flying conditions; data is acquired through short periods of saturation in extreme turbulence by the automatic application of a reduced order Kalman filter, enabling platform misalignment to be computed and hence controlled; the automatic calibration program computes accelerometer scale factors and errors in perpendicularity between the accelerometer sensitive axis and the platform surface. The GT-2A installation in a fixed wing aircraft is shown in Fig 1 (courtesy of Excalibur).
The GT-2A is hermetically sealed for protection when operating in environmental extremes. Short lead-ins improve survey efficiency and reduce costs. Filters depend on aircraft speed and flight conditions and provide spatial resolution typically ranging from 1.2 kms to 3.5 kms.
Fig 2 Repeat lines flown with the GT-2A in Nov 2008 in Ontario, Canada with RMS accuracy = 0.5 mGals.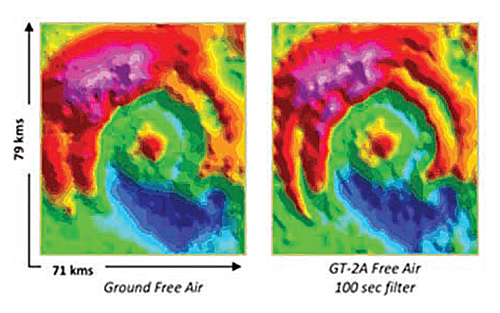 Fig. 4. Fixed-wing survey over the Vredefort Dome SW of Johannesburg: NS lines spaced 1km; left image is ground data courtesy of the Geoscience Council of South Africa (upward continued to survey altitude); right image is the GT-2A data (acquired in March 2009 courtesy of Airborne Petroleum Geophysics Ltd). The accuracy for the survey was 0.6 mGals RMS.
Fig. 5. Magnetic and Radiometric data were also acquired with the GT-2A gravity data during the March 2009 Vredefort Dome survey; top left = Total Magnetic Intensity; top right = Ternary image; bottom left = Total Count; bottom right = DEM (courtesy of Airborne Petroleum Geophysics and Xcalibur Airborne Geophysics).